Waveshare 7 inch HDMI LCD (H) Computer Monitor 1024*600 IPS Capacitive Touch Screen Supports Raspberry Pi Jetson Nano Win10 etc
Waveshare 7 inch HDMI LCD (H) Computer Monitor 1024*600 IPS Capacitive Touch Screen Supports Raspberry Pi Jetson Nano Win10 etc
7inch Capacitive Touch Screen LCD (H), 1024×600, HDMI, IPS, Various Devices & Systems Support
7" HDMI Touch Display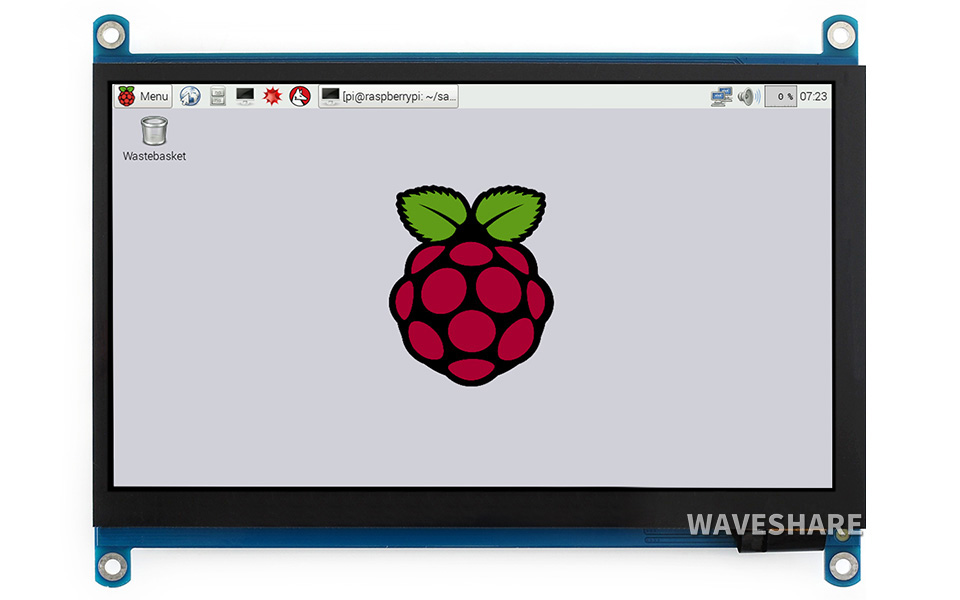 Device & System Support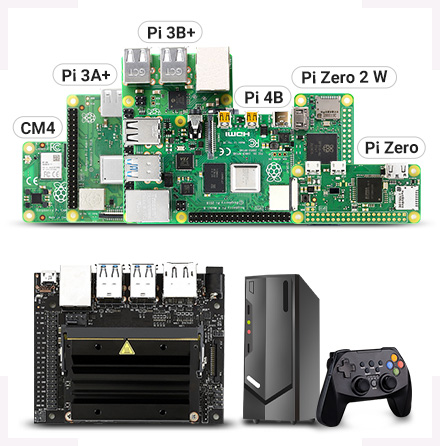 Raspberry Pi
Supports Raspbian, 5-points touch, driver free
Supports Ubuntu / Kali / WIN10 IoT, single point touch, driver free
Supports Retropie, driver free
Supports all versions of Raspberry Pi
Jetson Nano
Supports Ubuntu, single point touch, driver free
PC
Supports Windows 10 / 8.1 / 8 / 7, 5-points touch, driver free
Game Console
Xbox360, PS4, Switch...
Hookup Example
Working With Raspberry Pi 4
Working With Raspberry Pi Zero W
Working With AI Computer Jetson Nano
Working With Mini PC
Display
IPS Panel
Touch Control

1) up to 5-points touch, depending on the operating system.
Enjoy Gaming

* audio output via earphone/speaker port.
Demystifying Design Details
LCD FFC cable anti-interference design, more stable for industrial application
VCOM voltage adjustment for optimizing display effect
USB protocol translator, converting the touch signal into standard multi-points touch protocol to achieve smooth multi-points touch control
4~5.5V wide range USB power input, to avoid display flickering or touch failure that caused by low USB voltage
One-way isolation circuit. When powered from Touch port, the 5V voltage from Touch port will provide power supply for both touch function and display circuit. When powered from Power Only port, the Touch port will provide power supply for just touch function, and the other circuit will be powered via Power Only port. The two power inputs are totally isolated to prevent any breakdown
Two audio outputs for earphone and speaker, each track of speaker supports 2.6W PA circuit
OSD menu config buttons for adjusting backlight and display color
DC-DC LCD driver circuit, low heating on long term operation
VGA port to support VGA devices
Appearance And Dimensions
Resources & Services

Product Certification
HDMI Certified
* We are an official authorized HDMI Adopter.
PACKAGE CONTENT
Weight: 0.273 kg
7inch HDMI LCD (H) x1
HDMI cable x1
HDMI to Micro HDMI Adapter x1
USB type A plug to micro B plug cable x1
RPi screws pack (4pcs) x 1
Quick start sheet x1
Reviews
great quality, touch is working
2020-05-22 16:17:00
Many thanks to the seller, everything works, checked. Delivery is relatively fast, packed all tightly and reliably.
2020-09-16 07:14:00
The display received. Everything works, many thanks!
2020-04-17 03:51:00
Great touchscreen HDMI display, decent pixel density. I plan to use it as an on-the-go external monitor for my laptop/
2020-06-13 19:47:00
Quality satisfied and delivery more satisfied
2020-04-13 00:20:00
Thanks!!!
2020-09-23 03:22:00